Research | Research Overview
The School of Pharmaceutical Sciences makes scientific research layout in line with the new trends of pharmaceutical development, with focus on the five pillars of modern pharmacy, i.e. small molecules, biomacromolecules, genes, cell therapy, and medical devices, breaking through the subject classification model of the traditional pharmaceutical discipline. Aiming at first-class subject layout with emphasis on distinctive characteristics and interdisciplinary development, the school carries out drug discovery and pharmaceutical research in three general directions: key biological issues of pharmacy, key technology research of pharmacy, and disease research and targeted therapy, covering such important branches of contemporary pharmaceutical research as quantitative and systematic pharmacology, pharmacogenomics, drug development science and medical engineering, new techniques for target identification, disease models, pharmaceutical informatics, drug delivery and preparations, etc.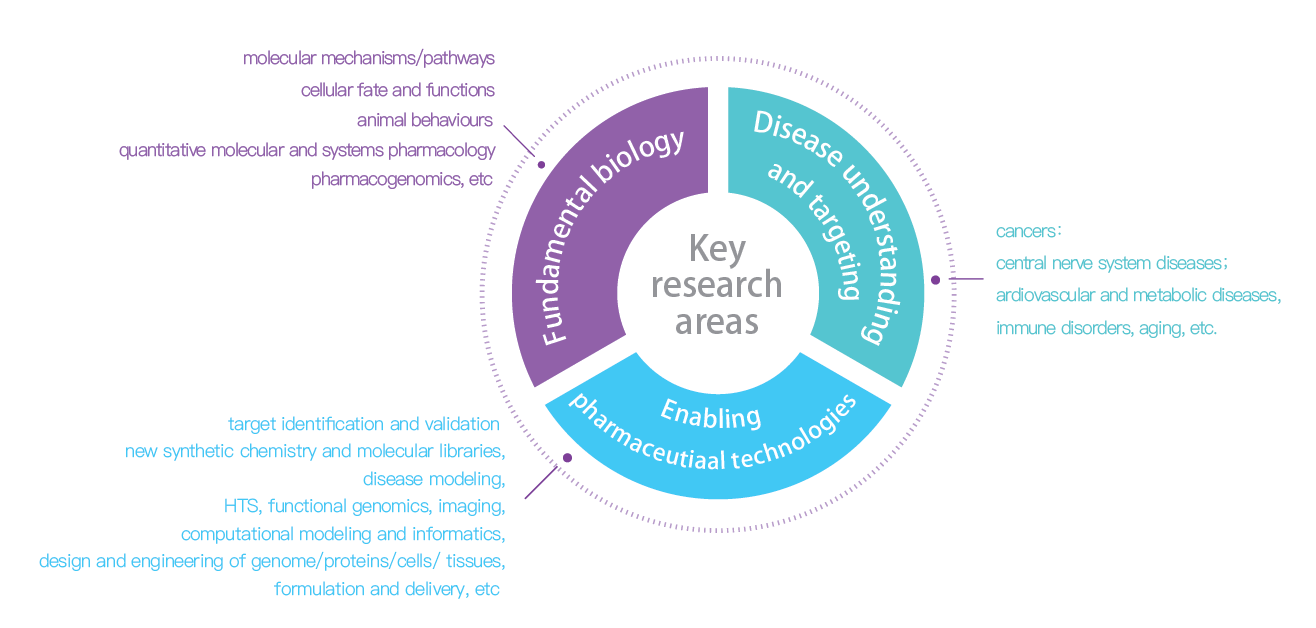 At present, the School of Pharmaceutical Sciences has a world-class scientific research team composed of 33 scientists. Almost all PIs have the background of education and scientific research at overseas first-class research institutes. Many researchers are selected into national talent programs, and some possess valuable experience in drug research and development. In specific pharmaceutical frontier fields such as pain/tactile ion channels, translocators, chemical synthesis of natural drugs, pharmaceutical chemistry, vaccine adjuvants, physical pharmaceutics, stem cells, immune recognition, chemical biology, high-throughput and high-content screening, etc., they have established rich academic research accumulation, achieved a series of innovative research results, and promoted the research on the transformation of multiple original drugs.
The School of Pharmaceutical Sciences takes active measures to attract top talents at home and abroad, make rational layout in the frontier research fields of pharmacy, strengthen the leading position of current research directions, cover more key branches of pharmacy, and further improve the overall scientific research level. In the next ten years, the size of PIs will increase to 60, and in each main research direction, the school will form an outstanding research echelon led by internationally renowned scholars and driven by excellent young and middle-aged scholars.